​Tell us about your research project for ATR 462. Why are you interested in this topic? What have you learned so far?

For my research topic for 462, I decided to look again at blood flow restriction training, or BFR training. I feel as if I still didn't get a great idea of the clinical implications of BFR training thorough my clinical questions, and wanted to continue research on it. Hopefully in the future I will be able to use this in clinical practice, or at least be able to know exactly how well it works and what the indications for BFR training are. I am interested in this topic for a few reasons. The first reason is the way it was brought to me. One of my coaches asked me about BFR training a little while back, probably sometime during my first semester junior year. I really had no idea about it so I decided to give it a google. Everything that I found on BFR training was related to bodybuilding. Body builders were using it claiming that it rapidly increased strength and hypertrophy. At this point I am thinking, if this works for body builders, why would it not work for injured athletes. The second reason I wanted to continue this research sort of builds on the first. I noticed after completing the first round of research on BFR training, that pretty much the entire bodybuilding community was using this technique wrong. They would pretty much completely cut off blood supply to the extremity being trained, and do multiple sets, without letting the blood flow back into the extremity. From everything that I had seen and read about the rehabilitation side of BFR, this seemed way wrong. So for reason two, I wanted to continue the research on BFR training in order to hopefully find what implications this treatment has on health issues such as a blood clot, etc… The third reason I wanted to continue this research is to hopefully become somewhat of an expert on this topic. I want to do this just so that I can use this type of training in the future and have something that everyone else doesn't have. I like the idea of some type of certification in BFR training, just so people would realize that there are potential dangers when someone does this without prior knowledge or the incorrect way.


​This week my clinical experience was pretty exciting. I was able to clinical for a basketball game as well as some practices and just some treatment/rehab time. On the day that I was able to do the general treatment and rehab time slots, I was able to complete 2 evaluations. One of them really stuck out to me just from the results and the diagnosis that I was able to formulate from my examination findings. The athlete came into the clinic with knee pain that was pretty severe at times, especially when running. The athlete reported that they felt their knee pop while kicking a soccer ball, and that they had felt this same pop with pain a couple weeks before while doing a specific stretching exercise (crossover knee pull). During my evaluation the athlete had noticeable but minor deficits in active knee flexion range of motion, but showed equal strength in all knee ranges of motion with slight pain during knee extension. The athlete's pain was located just under the medial patellar tendon. Due to the location of pain, and the athlete reporting that the pain felt like it was coming from deep in their knee, I was generally worried about the meniscus or the ACL having suffered damage. After a battery of tests, I determined that it was neither the ACL nor the meniscus, and kept doing other tests for the MCL as well as the LCL, without getting any positive tests. I then went back and did more palpations on both knees without finding any differences in actual palpations, but finding a location that seemed to elicit pain, right over the medial patellar tendon. At this point I was kind of stumped, mostly due to the athlete's mechanism and their report of where their pain was located. I called over Chaypin to look over the things I had done, and do some special tests of her own just to see what we thought. After we briefly talked about my findings compared to hers, we came up with a diagnosis of patellar tendonitis. This evaluation really reminded me that I always have to keep an open mind about whatever I am evaluating. Even though the athlete could be reporting pain in a slightly different location that where the injury has occurred, I need to keep in mind that the athletes perception of pain location could be somewhat flawed, due to multiple factors. The athlete has been doing rehabilitation for the patellar tendonitis and is showing signs of improved pain levels, so at this point it looks like I have done a pretty good job with the evaluation and diagnosis of this athlete's injury.


​ For your journal, you should reflect on your experiences.

You can select from

either

of the following prompts:

Trust is a very important component of the patient-practitioner relationship. How do you gain your patient's trust? Why do you think trust is important for successful outcomes?

I do believe that trust is one of the most important factors between the patient and the clinician. Trust affects multiple things, if not, everything and every part of the healthcare system. Trust can effect how effective a treatment is, due to the fact that without trust, the patient may have negative thoughts about the treatment they are receiving, and that could render the treatment less effective just because of the power the brain has in the healing process. I believe one of the best ways to gain trust with a patient is to be fully honest with them, as well as all of your other patients. Especially in the Athletic Training setting, our patients often talk to each other about going into the clinic for rehabilitation or treatment because they are sometimes on the same team. If they are talking to each other, and I as a clinician were to treat one differently in terms of honesty about whatever is going on, and about their treatments, whoever was getting the short end of the stick would definitely have some apprehensions about seeing me again when something went wrong. Another good way to gain a patient's trust is to treat everyone the same way, and in a good way. When people start seeing that a clinician is treating them differently, they will again have apprehension toward that clinician. When I am in my clinical experiences, I try to treat everyone the same. It doesn't matter if they are one of my good friends, or if I don't even really know their name. I always try to treat everyone the same way. One more way to gain a patient's trust is to have meaningful conversation with them when they are in the clinic for evaluations, therapy, or rehab. This is one of the best ways to increase a patient's trust. Overall, patients that trust their clinicians will have better results with treatments, evaluations and rehabilitation. I believe that this is one of, if not the, most important part of a patient-practitioner relationship, and without trust, the patient will never have the best outcome with whatever intervention is performed.
Powered by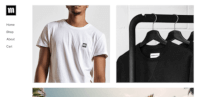 Create your own unique website with customizable templates.