​ For your journal, you should reflect on your experiences.

You can select from

either

of the following prompts:

Trust is a very important component of the patient-practitioner relationship. How do you gain your patient's trust? Why do you think trust is important for successful outcomes?

I do believe that trust is one of the most important factors between the patient and the clinician. Trust affects multiple things, if not, everything and every part of the healthcare system. Trust can effect how effective a treatment is, due to the fact that without trust, the patient may have negative thoughts about the treatment they are receiving, and that could render the treatment less effective just because of the power the brain has in the healing process. I believe one of the best ways to gain trust with a patient is to be fully honest with them, as well as all of your other patients. Especially in the Athletic Training setting, our patients often talk to each other about going into the clinic for rehabilitation or treatment because they are sometimes on the same team. If they are talking to each other, and I as a clinician were to treat one differently in terms of honesty about whatever is going on, and about their treatments, whoever was getting the short end of the stick would definitely have some apprehensions about seeing me again when something went wrong. Another good way to gain a patient's trust is to treat everyone the same way, and in a good way. When people start seeing that a clinician is treating them differently, they will again have apprehension toward that clinician. When I am in my clinical experiences, I try to treat everyone the same. It doesn't matter if they are one of my good friends, or if I don't even really know their name. I always try to treat everyone the same way. One more way to gain a patient's trust is to have meaningful conversation with them when they are in the clinic for evaluations, therapy, or rehab. This is one of the best ways to increase a patient's trust. Overall, patients that trust their clinicians will have better results with treatments, evaluations and rehabilitation. I believe that this is one of, if not the, most important part of a patient-practitioner relationship, and without trust, the patient will never have the best outcome with whatever intervention is performed.
Powered by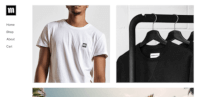 Create your own unique website with customizable templates.