​Tell us about your research project for ATR 462. Why are you interested in this topic? What have you learned so far?

For my research topic for 462, I decided to look again at blood flow restriction training, or BFR training. I feel as if I still didn't get a great idea of the clinical implications of BFR training thorough my clinical questions, and wanted to continue research on it. Hopefully in the future I will be able to use this in clinical practice, or at least be able to know exactly how well it works and what the indications for BFR training are. I am interested in this topic for a few reasons. The first reason is the way it was brought to me. One of my coaches asked me about BFR training a little while back, probably sometime during my first semester junior year. I really had no idea about it so I decided to give it a google. Everything that I found on BFR training was related to bodybuilding. Body builders were using it claiming that it rapidly increased strength and hypertrophy. At this point I am thinking, if this works for body builders, why would it not work for injured athletes. The second reason I wanted to continue this research sort of builds on the first. I noticed after completing the first round of research on BFR training, that pretty much the entire bodybuilding community was using this technique wrong. They would pretty much completely cut off blood supply to the extremity being trained, and do multiple sets, without letting the blood flow back into the extremity. From everything that I had seen and read about the rehabilitation side of BFR, this seemed way wrong. So for reason two, I wanted to continue the research on BFR training in order to hopefully find what implications this treatment has on health issues such as a blood clot, etc… The third reason I wanted to continue this research is to hopefully become somewhat of an expert on this topic. I want to do this just so that I can use this type of training in the future and have something that everyone else doesn't have. I like the idea of some type of certification in BFR training, just so people would realize that there are potential dangers when someone does this without prior knowledge or the incorrect way.

Powered by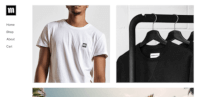 Create your own unique website with customizable templates.